To meet Indonesia's ambitions to develop and secure the maritime economy of the country gathering 17,000 islands, the BKMG (Indonesian Agency for Meteorology, Climatology and Geophysics) called on CLS Group to deploy an unprecedented marine meteorological system on the Indonesian maritime territory.
The first deployments of this unprecedent system have been successful: a promising start.
MMS: Reinforcing the maritime culture & economy
With territorial waters comprising nearly 70% of its territory, Indonesia is a maritime country with the largest sea area and number of islands. The country is endowed with natural marine resources (fishing, natural gas, oil, renewable energy, etc.).
Nevertheless, the maritime sector exploits less than 10 % of this potential. In this context, Joko Widodo, the Indonesian president, launched an ambitious vision called World Maritime Axis aiming to develop the maritime economy but also to create more inter-island connectivity (sea highways, deep seaport, shipping routes) and tourism.

Weather forecasting: A key tool for developing, securing, and making activities at sea more efficient
In order to achieve this goal, efficient maritime meteorology services are crucial. They require dedicated efforts to carefully monitor present environmental conditions and forecast future evolution. To respond to these needs, the BMKG wants to provide Indonesia with the most advanced Maritime Meteorological System ensuring that the use of Indonesian seas is safe and optimized for every sea-citizen and every maritime business (fishermen, port authorities, maritime transport, etc.).
With MMS1, Indonesia will be protected from inclement weather and will be able to plan operations at sea with accuracy and efficiency. Moreover, Indonesia will reinforce its position as an international player in terms of meteorology and climate.
A team of experts to make this vision a reality
To complete this project, the BMKG can count on the best experts in weather forecasting and ocean monitoring: a team lead by PT CLS Argos Indonesia, a subsidiary of the French Space Agency and eight companies of specialists with an international reputation. The team brings together unique competences and experiences that no one else can offer.

MMS: An innovative project
This project meets a high standard of excellence in order to comply with BMKG requirements and to deliver the best service to Indonesian citizens. With a forecasting model that couples three parameters: ocean, wave & atmosphere, in an unprecedented spatio-temporal resolution of 3km and 1h, the Indonesian leaders of the BMKG will deliver a unique service. To succeed, this project includes an in-situ network at sea and along the coast that will be part of Indonesian meteorological history.
The first deployment of Indonesian Marine Meteorological system: a great success
Francisco Dos Santos, MMS oceanographer at CLS Group: "2022 marks the start of the oceanographic equipment deployments in the MMS Project. Keeping pace with the project schedule, after one year of designing and planning, the first 2 missions for drifters and floats deployments were successfully performed by BMKG and PT CLS Argos Indonesia. The presence of BMKG onboard was also an opportunity for capacity building as they were trained to prepare, activate, and deploy the instruments at sea.".
The first missions were held on the Karimata Strait – between the Belitung and Kalimantan/Borneo Island – and the Riau Archipelago, located in the northern entrance of the Java Sea and of strategic importance for Indonesia.
As a great example of institutional partnership, all deployments were performed onboard the passenger vessels from the "Tol Laut" Program (or the "Sea Highways") an integration initiative from the Indonesian government that uses the sea as primary means of transportation; and one of the most benefited by improved forecasts to be delivered by the MMS Project.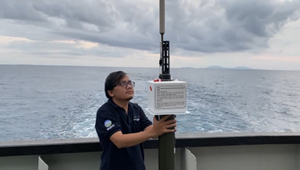 A total of 6 drifters (SC40SVP-B from NKE) and 5 profiling floats (ARVOR-C from NKE) were deployed during this first Deployment and are collecting information of ocean currents, atmospheric pressure, temperature, and salinity. In addition to providing situational awareness for forecasters and maritime operations professionals, this data will also be used to evaluate and improve the numerical models under development within the MMS scope.
After the first slot of deployments: the oceanographic adventure continues
Ery Ragaputra, maritime project officer at PT. CLS Argos Indonesia : "These first deployments were just a start. Last month, in five different locations several types of oceanographic instruments have been released in the Ocean in 3 different locations:
Banda Sea (3 drifters and 2 ocean floats),
Flores Sea (3 drifters and 1 ocean float),
and Makassar Strait (3 drifters 2 ocean float).
Thanks to these instruments numerous ocean parameters can be monitored such as: sea surface temperature, barometric pressure, temperature and salinity profiles in shallow and deep waters. We are proud and honoured to be part of this great adventure. Deploying more than 200 marine instruments on our seas is an unprecedent challenge, it's a great opportunity to be part of the adventure. This Marine Meteorological System will be a key tool to improve our blue economy, ensure safety at sea and connect our people like never before."  
The next step will be to deploy 10 floats and 15 drifters by the end of the year.
Contact us for more information