SOS Méditerranée is an association of citizens who charters a ship, the Aquarius, to help those who flee for their lives. In two years, some 28,000 people have been rescued, of whom 1/3 are minors.
A locator beacon provided by CLS has been active on Aquarius since March 19th. The communication of the ship's position to shore operators of SOS Méditerranée, allows a great reactivity during the operations at sea.
SOS Méditerranée continues its rescue mission in a complex operational context.
---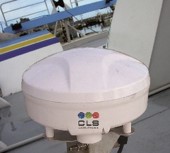 The Triton Beacon is one of the CLS' locating beacons used on boats for marine safety applications.
---