CLS, together with TEKEVER, have added a new life-saving capability to the maritime patrol version of the AR5 drone, with eight-person life rafts that can be dropped to people in distress.
CLS, a subsidiary of the French Space Agency, expert in maritime security and its long-term partner TEKEVER, drone manufacturer, expert in aerospace, defense and security technologies, joined forces once again to design a new drone featuring Search and Rescue capabilities, in order to support maritime authority in charge of safety at sea to save more lives.
This CLS drone, maritime patrol version of the TEKEVER AR5 UAV can now drop a life raft at sea able to carry 8 people in distress.
CLS already operates the French COSPAS-SARSAT MCC (Mission Control Center), on behalf of the French Space Agency (CNES), the French Maritime affairs and French Civilian Aviation Authority (DGAC). CLS manages the immediate assistance situations of the MCCF, works in collaboration with the other world mission control centers and, if necessary, transmits alerts to the Rescue Coordination Centers (RCC) likely to intervene. CLS teams are assigned by the French administration and also collaborate with the French Space Agency.
Thanks to its knowledge of marine rescue operations combined with TEKEVER's remarkable drone development capability, the AR5 now offers a new configuration with unprecedented functionalities to meet the challenges of Search and Rescue bodies.
This new capability has been fully demonstrated during search and rescue exercises. The TEKEVER AR5 onboard sensors can identify survivors and calculate the best drop-point with no human interference, enabling the life-raft to be deployed at a close enough, but safe, distance.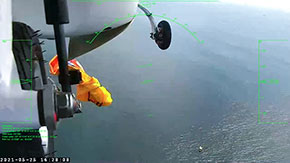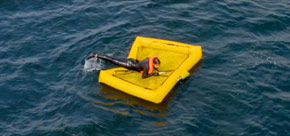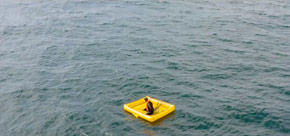 Nadia Maaref, Head of Maritime Security at CLS:
"Our experts have been involved in saving more than 50 000 lives in over 30 years of activity. Since 2017, we have been using the drones developed by TEKEVER in the framework of missions ordered by many European actors. When it comes to fight against illegal fishing, trafficking, pollution, the drone is a key complementary tool to the satellite services we provide to maritime authorities. With this new capability, our drones complete the arsenal of safety at sea that we offer (management of distress alerts, satellite detection of vessels in danger, drift prediction of wrecked vessels, etc.)."
Ricardo Mendes, TEKEVER CEO:
"AR5 demonstrated its new LifeSaver system by deployment of life raft with automated precision. This new capability could mean an edge over manned aircraft in search and rescue missions in terms of costs and logistics footprint"
CLS and TEKEVER have been working to set up the first commercial European maritime surveillance and environmental monitoring service based on unmanned technology to monitor illegal trafficking, illegal migration and fishing, offering support to security forces on the ground. Today, the two companies joining their innovative capabilities, have accrued more than 1400 flight hours with their own UAVs and deployed more than 140 operations in Spain, Portugal, Italy, and France.
Founded in 2001, TEKEVER's ambition is to deliver unprecedented value to our customers on a global scale. We currently lead the market in unmanned systems technology and services, develop next-generation satellite systems and help our customers digitally transform their businesses. We don't just react to changes in our world. We are relentless in our efforts to create it and provide our customers with a consistent advantage to help them accomplish their mission.