Summer of 2019 was one of the three hottest summers on record in France since 1900. French cities, which lack green space and vegetation, are warmer than the surrounding countryside. Worried about the well-being of its inhabitants, Grand Lyon launched a project in 2018 to identify natural spaces within the urban areas in order to preserve them. To do so, Grand Lyon chose SIRS, subsidiary of CLS Group and expert in geographical data for 30 years.  The work done by SIRS makes it possible for Grand Lyon to precisely identify the vegetation within its limits in order to define conservation and rehabilitation measures and adapt to climate change. 
Sustainable urban management
The Grand Lyon is an administrative district made up of 59 townships. In order to manage growth and improve the well-being of its 1.5 million inhabitants, Grand Lyon chose SIRS to map and characterize its urban vegetation, as part of a sustainable management plan.
An innovative project
In order to meet the challenge, SIRS, expert in geographic databases and adept of deep learning, a developed an automatique processing system to combine aerial infrared images (making it possible to "see" vegetation" with LIDAR data (making it possible to estimate the height of vegetation). These vectors are enriched by photo-analysts, whose expertise is to identify and label the vegetable cover:  tree, shrub, lawn, culture, meadow, forest,  etc. Their work was cross-checked and validated by ECOSPHERE https://www.ecosphere.fr/.
Decision-making tools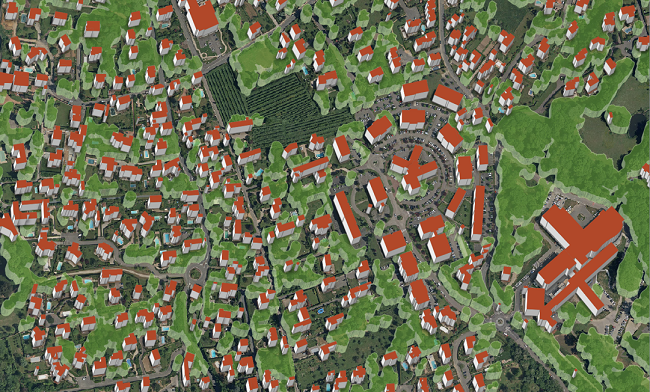 Within the framework of this project, SIRS developed new methods to meet the needs of its client, Grand Lyon. Users can generate useful, 3D map products to simulate  urban heat islands, pollution dispersal, etc…
SIRS provides :
Large-scale vegetation maps
Database for operational applications
Identification of ecological corridors as well as green corridors
Tracking the use of space
Improving environmental knowledge for compensatory measures
Integrating vegetation data into climate resiliency plans
Learn more: https://www.grandlyon.com/